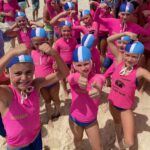 To ensure we can provide a quality and safe program for our happy and large Nippers group, our Nipper membership intake has now closed.
---
Come and join us at Palmy Nippers!
We are proud of the Nippers program we are run at Palmy; one of the largest junior clubs in the Point Danger Branch. As well as our wonderful Palmy Family of volunteers, one of our points of difference is that we run our Nipper program on Saturday morning; one of few clubs on the Coast to do so.
Our Nippers program embraces our Club values of Respect, Inclusive, Unity and Involvement.
Our Nipper program serves to educate and promote beach safety and awareness in a fun learning environment. Our juniors gain skills and principles for everyday life and become respected members of our community.
Nippers is designed for children from 5 – 14 years of age. Age groups are determined based on the month and year a child is born.
Nippers is for the whole family and is a wonderful opportunity to get involved and make new friends within the local community. For more information, keep browsing through the Nippers section on our site. If you still have a question, contact our office who will be happy to help.
We look forward to seeing you on the beach!
Visit the links below for further information or to sign up to Nippers.