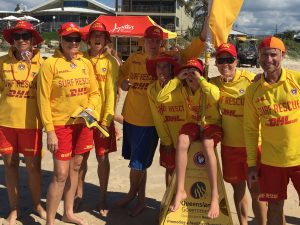 Patrol Season runs from mid September through to the start of May. Patrols have now ended for season 2020-2021.
Memberships for the 2021/2022 season will be accepted from 1 July 2021*. Existing members will be sent an email reminder to renew their memberships.
All patrolling members must be financed by their first patrol. When memberships re-open, existing members are requested to renew online via SLSA Online Members Area. This is a simple process for which step-by-step information has been provided below.
SLS Members Area Information
RENEWING MEMBERS
When membership for season 2021-22 opens, renew your membership online  by visiting the SLSA Online Members Area (also available on mobile phones and tablets).
If you do not already have one, create a 'members account'.
Enter your email address and password where required. Please check your details and update if anything has changed in 12 months, ensuring the Club has an active email address and mobile number.
Renew and pay your Membership online.
If you need further assistance please refer to the Renewal and Payment instructions, or contact the office Administrator on 5534 2180 (ext 2).
NEW MEMBERS
New members for the 2021-22 season will be accepted from 1 July 2021*.  Should you wish to enquire about membership before this time, please email administrator@palmbeachsurfclub.com.au
For new members joining the Club, online sign up is available using this new member sign up link. Help is available using the following how to join instructions. Please ensure that you provide an active email address and contact mobile number, crucial information should we need to contact you.
If you would prefer to print and complete a paper membership form, please do so and bring this to our club during office hours. Membership payment can then be made to our club Administrator.
BLUE CARDS
It is a requirement by SLSA that all patrolling members must hold a current blue card – Queensland's 'Working with children' check. If you do not have a current blue card or you need to renew, there are now two options:
Option 1
Members can use the new forms here, but you must ensure you provide a QLD Licence or CRN number and Certified Copies of an identification document or CRN must accompany your application (this can only be certified by a JP, Commissioner for Declarations, Lawyer or Police Officer)
Option 2
Members can use the online application portal Blue Card Online Application Portal but you must ensure you have a QLD Licence or CRN number. You can also use the 'How to' guide to assist with this process.
ALREADY HAVE A BLUE CARD?
If you already have a blue card with another organisation, we are required to link this to SLSQ. You need to complete the Link an Applicant or Cardholder form.
BLUECARD EXEMPTIONS
Registered teachers and police officers remain exempt from requiring a blue card as part of their professional duties. However, when providing services which fall outside of professional duties, you must now complete an Exemption form and return it to the Club.
FEES – 2020/21 SEASON
Please note, fees for the 2021-22 season have yet to be finalised but will be in keeping with previous seasons.
In surf lifesaving, we aim to keep our fees to a minimum for our patrolling members. We value your time patrolling our beach and we hope that you know your membership enables the club to provide you with year-round access to:
Breakfast / Lunch on patrol days
All patrol awards and proficiencies free of charge
Change rooms and showers
Equipment (where available)
Gym facilities
Training sessions
Supporters Club access with member discounts
Individual Membership Fees
Active Patrolling member 18+                                         $80
Cadet Membership U15 – U17                                         $70
Family Membership Fees
Family of 4                                                                           $280
Family of 5                                                                           $300
Family of 6                                                                           $310
Please note: Family must be at least 1 adult but no more than 2 adults plus children. The maximum fee payable will be $310.
* Expected membership intake date for 2021-22 is to be confirmed.