beachfront bar & restaurant on palm beach
Club Entry Requirements
In line with the public health plan set forward by the Queensland Government, from Friday December 17 all staff, members & guests visiting the club will be required to have their Covid 19 vaccination unless medically exempt & wear a mask unless seated at a table.
Upon arrival at reception, you will be required to check in using the QLD CHECK IN APP, and to present proof of your vaccination.

The easiest & fastest way, is to link your digital certificate to the QLD Check in app. If you haven't already, click for instructions how to do this HERE.
I don't have a smart phone, what should I do?
Bring photo ID (license or passport etc) & our receptionists can check you in manually through our system. You will also need to have a hard copy of your vaccination certificate.
What do I need to show for my vaccination?
If you have linked your certificate to your Check In QLD app you can show the tick and the green box to our reception team when checking in.
OR
You can show a digital certificate from your Apple Wallet or Android Digital Wallet.
OR
You can show your digital or printed vaccination certificate as issued to you by Medicare along with your photo ID.
We understand that sometimes these things aren't as simple as they sound so we have compiled the answers to a number of Frequently Asked Questions HERE
We know all our valued members & guests will respect the additional pressure this puts on our team, particularly our wonderful receptionists. Thank you in advance for being kind to our team, as we do our bit to keep everyone as safe as possible.

Voted Gold Coast's
Best Surf Club 2019 & 2020, here's why!
There isn't a restaurant or bar in Palm Beach that will get you closer to the sand & surf than Palm Beach Surf Club. We are located right on the beachfront in the heart of Palmy on the corner of 7th Avenue & Jefferson Lane. You'll be spoiled with views to Currumbin Alley in the South & Jellurgal to the North & beyond to Surfers Paradise.
It's true what they say, Community Clubs offer "something for everyone" & that's certainly the case here at Palmy. From coffee & cake in our café to beautifully fresh, well priced meals from the restaurant or casual drinks on the deck, we have seating options & menus to suit. The perfect place to meet friends & family for a great time overlooking the ocean in Palm Beach.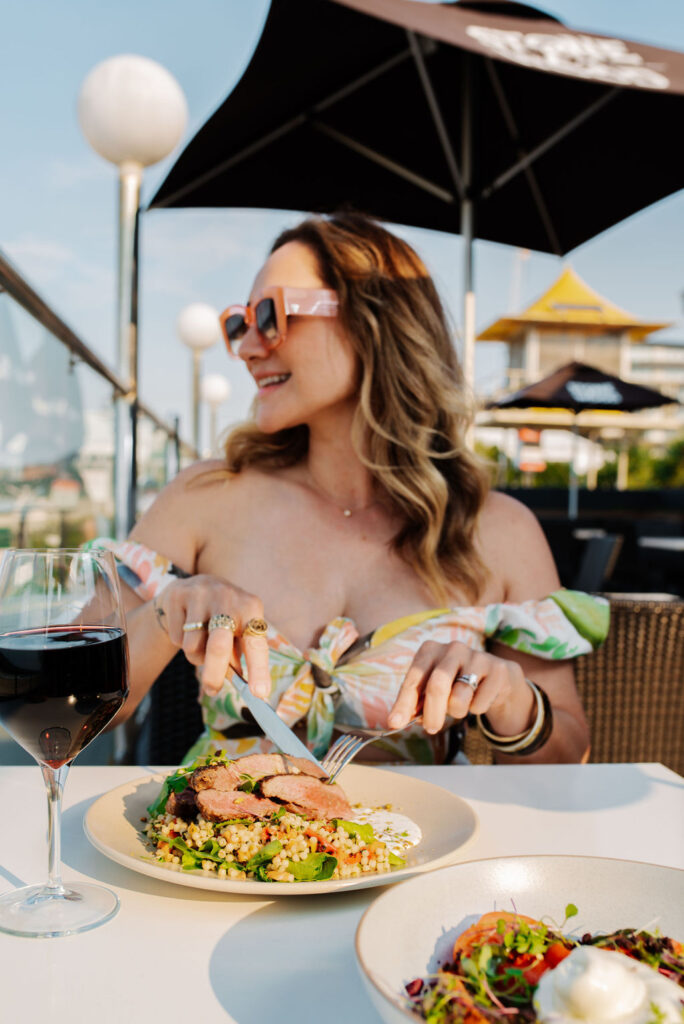 any closer & you'd be in the water…
Wherever you are in the club, the big blue view will find you!
When you reach the top of the stairs or step out of the lift you are welcomed into 'The Main Floor'. An inviting open plan space with floor to ceiling glass windows which deliver the ocean to your table!
The 'North & South Balconies' are covered alfresco patios overlooking the deck to the beach beyond. The North Balcony is our recommended space for group bookings & small functions.
'The Deck', with its market umbrellas is a cool, casual space at sand dune level. It's the epitome of Summertime vibes & good times with mates. Having 'a couple of cold ones at the Surfy' is about as Aussie as you can get!