---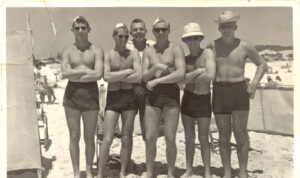 On this page:
A period of change
Key events and accomplishments
Key Personnel
Photo gallery
A period of change
World War 2 between 1940 and 1944
Key events and accomplishments
1.World War II caused minor disruptions with members going off overseas , but it was business as usual on the beach, although no club or state competition was held during this period.
1941: Andy Frizzell was elected president of the club, a position he held for 25 years.
Competition resumed 1944 after the war and the club excelled in competition where they won both Branch and State titles in the March Past.
1945-46 season: "Post War" saw a return to full scale operations as members returned from war service.
1946-47 saw an increase in home owners in the area which resulted in 20 members leaving and forming Pacific Surf Club.
1946: Maurie Webb won the Senior Belt in the State Champs and placed 2nd in the Australian Champs.
1947-48 was a very successful season at branch and State Titles.
Purchased Nissan Hut from Army for storage of gear.
Key Personnel
Season
President
Club Captain
Life Members
1940-41
A. Frizzell
M. Walsh
A. Frizzell
1941-42
A. Frizzell
M. Walsh
M. Walsh
1942-43
A. Frizzell
R. Gilmiester (to Dec)
A. Crank
C. Tweddle
1943-44
A. Frizzell
A. Crank
J. Stewart
1944-45
A. Frizzell
I. Elford
J. McPhee
1945-46
A. Frizzell
R. Gilmiester
1946-47
A. Frizzell
T. Murphy
1947-48
A. Frizzell
R. Pascoe
1948-49
A. Frizzell
K. Francis
H. Mellor
1949-50
A. Frizzell
K. Francis
R. Carr
Photo Gallery
With thanks to Robert McPherson and the late Andy Frizzell for these selection of historic photos. Click on a photo to see it in higher resolution.