Our Nippers sign-ups have now closed for the season.
Our next generation of Beach Guardians!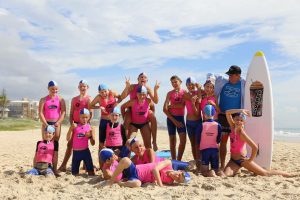 We are very proud to say that 'Palmy' is one of the largest Nipper Clubs in the Point Danger branch. This is not only a testament to the program we run on the beach, but we are the only Club on the Coast to run our Nipper program on Saturday morning – brilliant!
Our nipper program serves to educate and promote beach safety and awareness in a fun learning environment. Our juniors gain skills and principles for everyday life and become respected members of our community.
Nippers is designed for children from 5 – 14 years of age.
Nippers is for the whole family, a wonderful opportunity to get involved and make new friends within the local community. For more information keep browsing through the Nippers section on our site.
Sounds like something for you? Have a read through our other Nippers pages and sign your child up to be a member. note. If you have any questions, feel free to contact our Club Administrator who can assist you further.
Carnivals – All carnival links and dates can be found on the Surf Sports Carnival page.
We look forward to seeing you on the beach!