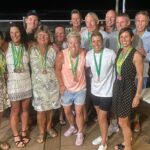 The scope and diversity of Palm Beach SLSC extends to Masters competitors who are seen competing in all disciplines we have available at the Club. These members (all over 30 years) are invaluable, they help out with Nippers, water safety, officiating at Carnivals and still seem to find time to compete in Masters events.
The Masters are a credit to our club and have dramatically grown over the past 5 years. At Palmy, it's all about participation, not the result (although our members are quite competitive and successful at competitions). Our Masters are also very sociable, welcoming and frequent visitors at our Supporters Club. The haul of medals after a season also shows how much they enjoy training and doing their best to improve; whatever their skill level.
If you are keen to get involved we have active male and female members. Most of our members joined in with no prior experience on a board or a ski, just a level of enthusiasm and desire to get involved and have fun!
If this sounds like your sense of adventure, contact the Club Administrator.
Masters training is integrated into the Club's overall surf sports training program. Check the Club Training page and our Team App for more information.