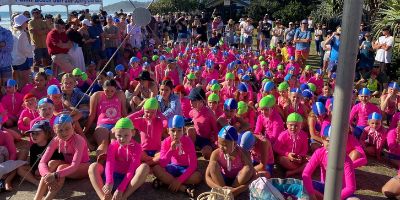 On this page:
Palmy Nippers – a typical Saturday
Club Championships
Volunteers run Nippers
Setup and Pack down crew & BBQ duties
Palmy Nippers – a typical Saturday
Our Nippers program is mostly held at Palm Beach, 7th Ave, with some sessions being held at Pirate Park in Currumbin Creek. Being an outdoor program held on the beach, Nippers is at the mercy of the Gold Coast's sometimes not so cooperative weather.
In the case of inclement weather, an SMS will be sent at 6am on the morning of Nippers. Depending on conditions, we may relocate to another venue such as Pirate Park on Currumbin Creek, or we may have to cancel Nippers for the day. Please ensure your contact details are up to date in your SLSA Members Area so we can keep in touch.
Below is a breakdown of a 'typical' Saturday at Palmy Nippers.
Time
What
Who
7.00am
Beach set up commences
Beach set-up rotates between parents from each age groups.
See Nipper calendar for roster.
BBQ set up commences
BBQ duties rotate between parents from each age groups.
See Nipper calendar for roster.
7.30am
Nippers arrive to sign on.
Water safety assessment of conditions to determine the

days activities.

All parents must sign their child in and out each session.
7.45am
Nippers assemble in Andy Frizzell Park.

Age Managers and Water Safety Briefing.

Age Managers and Water Safety meet for a catch-up
prior to addressing Nippers.
7.55am
Welcome and club updates
Junior Activities Chair welcomes Nippers and provides
any updates for the day
8.00am
Nippers assemble on beach in age groups with Age Managers for headcount and commence rotation of activities
Everyone onto the beach!
Parents without a role assist and keep an eye on their Nippers.
For safety, the more eyes watching the better.
10.00am
Parents sign off nippers with Age Managers

Beach pack down

Parents sign-out their Nippers. Everyone enjoys a bacon and egg sandwich and coffee before heading off to the remainder of their weekend plans.
Club Championships
Throughout the season we hold rounds of Club Championships. Club Championships introduce Nippers to Surf Sport competition in a familiar, friendly environment replicating carnival conditions and rules in order to prepare our Nippers for what may be their first carnival. We run our Championships three to four times during our Nippers sessions during the season. Dates are listed in the Club Calendar (and are subject to change dependant on weather conditions).
Our junior competitors compete at Club level in the following disciplines:
U6 do not compete
U7 do not compete
U8 sprint | flags | wade
U9 sprint | flags | wade | swim
U10 sprint | flags | wade | swim | board
U11-U15 sprint | flags | swim | board | Iron-person
Points accumulated over Club Championships count towards our Age Champion awards, which are distributed at the end of season presentation event.
Nippers can also compete for Palm Beach in Carnivals. The latest Carnival calendar can be found in the Surf Sports section under Carnivals.
Volunteers run Nippers!
Without volunteers, there would be no Nippers!
Like all surf lifesaving activities, volunteers run our Nipper days and these volunteers are our Parents/Associate Members.
With close to 300 Nippers, each week we need parental assistance to ensure our program runs efficiently and, most importantly, safely for our kids.
If you would like to jump in and have some fun then download and complete the Family Participation jotform. You can also discuss with volunteers and Age Managers during Nippers how you can help. You'll be allocated a job before you know it!
Beach Set-up and Pack-down, and BBQ Roster
One of the most crucial volunteer roles to get Nippers underway is Set-up and Pack-down crew – and some may say most important of all, BBQ duty. Parents are scheduled by Age Group to assist with Nipper beach set up/pack down and the BBQ. Please see the Nipper calendar for the roster.