Saturday Program
Below is a breakdown of a 'typical' Saturday of Nippers.
Note: in the case of inclement weather, an SMS will be sent at 6am on the morning of nippers. Depending on conditions we may relocate to another venue or cancel nippers for the day. Make sure your contact details are up to date in the Members Area.
7.00am
Beach set up commences – volunteers required
7.30am
Nippers arrive to sign on

 

Water safety assessment of conditions to determine the day's activities.

7.45am
Nippers assemble in Andy Frizzel Park

 

Age Managers and Water Safety Briefing.

7.55am
Welcome and club updates
8.00am
Nippers assemble on beach in age groups with age managers for headcount and commence rotation of activities
10.00am
Parents sign off nippers with Age Managers

 

Beach pack down
Club Championships
Throughout the season Palm Beach hold four rounds of club championships. This format introduces nippers to Surf Sport competition in a familiar environment which, replicates carnival conditions and rules. We run our Championships over four Saturday's during the season.
Our junior competitors compete at Club level in the following disciplines:
U6 & U7      do not compete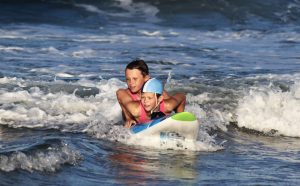 U8                sprint | flags | wade
U9    sprint | flags | wade |swim 
U10   sprint | flags | wade |swim | board
U11 & U15  sprint | flags | swim | board | Iron-person
Club championship dates will be advised during the season.
Points accumulated over Club Championships count towards our age champion awards which are distributed at the end of season presentation event.
Nippers can also compete for Palm Beach in Carnivals. The latest Carnival calendar can be found in the Surf Sports section under Carnivals.
VOLUNTEERS REQUIRED!
Like all surf lifesaving activities, volunteers run our Nipper days. Every week we need parents assistance to ensure our program runs efficiently and, most importantly, safely for our kids.
If you would like to jump in and have some fun then download and complete the Family Participation Form and return to your child's Age Manager at Nippers.
BEACH SET UP/PACK DOWN & BBQ ROSTER
To see when your team is scheduled to assist with Nipper beach set up/pack down and the BBQ, please click here!
Nipper parents/guardians can find the layout for the setup in the image below, also available for download. If you find yourself on Beach or BBQ set-up duties (BBQ setup instructions here; Beach setup instructions are coming!) and need help, don't be afraid to ask!