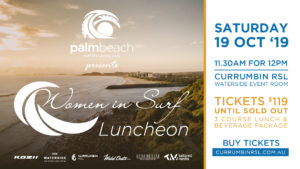 Here it is, ladies!
This fabulous annual event is about to launch into its sixth year and is proudly hosted by Palm Beach SLSC. Join our host Jacki Hendy for an afternoon of entertainment, stories and laughter which includes:
3 course lunch & Wild Oats Wine Package
Guest Panelists:         Jordan Mercer and Bonnie Hancock
Comedian:                   Ellen Briggs

Share the Dignity
Whilst WiS is an important fundraiser for Palm Beach SLSC, we feel strongly about giving back and supporting another local charity that resonates with all women on the Gold Coast. We will continue to support and play a role in sharing the message for
Share the Dignity
.
Donate to the Christmas collection #itsinthebag. It's easy… donate a handbag you no longer use, fill it with items that would be gratefully recieved – pads, tampons, deodorants, toothpaste,
toothbrush, shower gel, shampoo, conditioner anything to make a woman in need feel special.
For more information be sure to visit the 'itsinthebag' Christmas Collection.
Drop off:
Palm Beach SLSC reception up until 13 October
Bring with you on the day of the event
Women in Surf Award
We have chosen to present an award as part of the formalities for the day to pay respect and recognise the Women before us. The award recognises a female who has made a significant and positive impact to the advancement of women in the Surf Lifesaving movement.
Previous winners:
2014: Not awarded
2015: Bonnie Alchin
2016: Bev Walsh
2017: Kerrie Barnes
2018: Belinda Doman
2019: Who will it be???