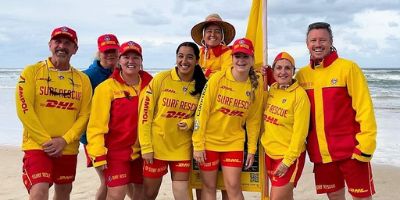 Becoming a lifesaver – through obtaining your Bronze Medallion – is one of the most rewarding things you can do for yourself, your family and the community. Not only are you keeping the public safe on the beach, you are also building bonds and friendships that last a lifetime.
Requirements to gain your Bronze Medallion (Certificate II in Public Safety – Aquatic Rescue):
Minimum age of 15 years
400m timed pool swim in less than 9 minutes
Be able to complete a 200m run-ocean swim-run by end of the course
During the Bronze Medallion course, you will cover topics such as:
Surf Awareness and Skills
Rescue Techniques
Resuscitation, CPR and First Aid
Defibrillation and Basic Oxygen
Carries and Supports
The Human Body
Safety and Well-being
Radio Operations and Communications
Patrols
The Bronze Medallion course provides you with the necessary skills and knowledge of patrolling and surf awareness in order for you to participate in lifesaving operations.
Courses are held at our club throughout the year. Contact our Club Administrator to find out more details about our courses and dates or visit the Courses & Awards section of our website.