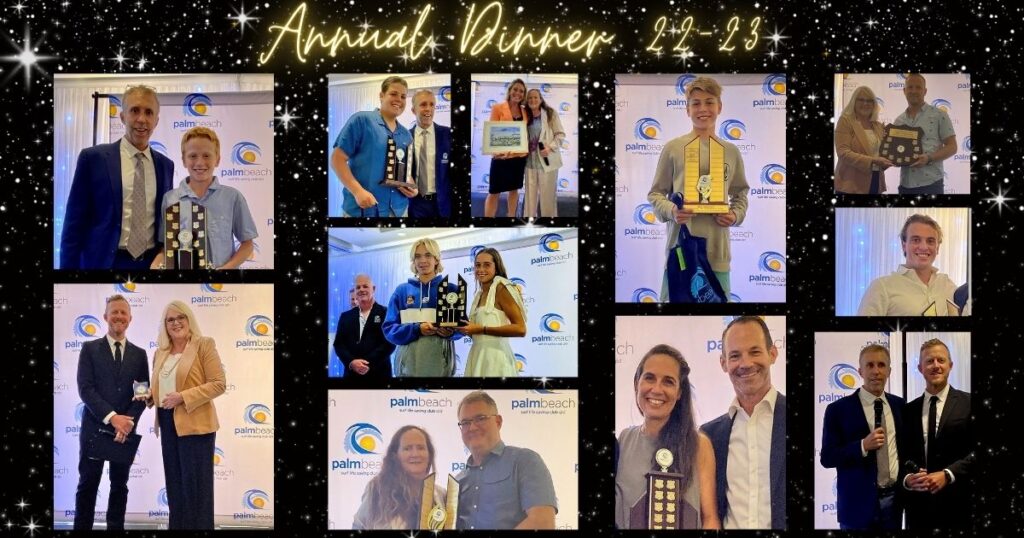 Congratulations to all our amazing volunteers and award winners who were celebrated at our Annual Dinner and Awards Night on Saturday, 13 May 2023. The event was a fun-filled evening where we celebrated our Palmy stars and recognised our dedicated members and volunteers for their contributions in making our club the best it can be.
Our MCs, Director Greg Cox and JAC Josh Sealey, did an excellent job guiding the guests through the night, ensuring that everyone had a merry time. We were proud to present one of our Life Members, Warren 'Wassie' Johnson, with his 40 Year SLSA Recognition, although his service extends closer to 50 years.
Early in the evening, we recognised our McPherson Community Award recipients, Leesa Monaghan, Colin Harvey, Josh Sealey, and Jack Carroll, who were acknowledged by Karen Andrews MP in person, in lieu of being able to attend the awards ceremony in late April.
There are many deserving members and volunteers who contribute to the success of our club this season. Please see below for our award categories, nominees and winners. Additionally, you can find some photos from the night in galleries further down this page.
Award Category
Nominees
Winner
MARY & ANDY FRIZZELL MEMORIAL
U14 Junior Lifesaver of the Year
Ashton Sutch, Ty Campbell, Fletcher Hart & Kai Harvey
Ty Campbell
THE SPINK FAMILY TROPHY
U18 Lifesaver of the year
Kai Agyik, Dylan Jones-Dean, Grace Pooley, Anise Webb, Frankie Jackson, Isaac Allport and Minka Te Heu Heu Tukino
Isaac Allport
MICHAEL HART ENCOURAGEMENT AWARD
Most Improved Cadet/Junior Club Person
Ty Campbell, Cooper Schmarr & Kai Agyik
Cooper Schmarr
PALM BEACH SURF CLUB
Youth Volunteer of the Year
Anise Webb, Ava Fox, Charlotte Sutch, Yasmina Phadel, Jack Carroll, Charlotte Cooper, Holland Robinson, Isaac Allport & Emily Carroll
Jack Carroll
PALM BEACH SLS SUPPORTER'S CLUB TROPHY
Volunteer of the Year
Bayden Skelley, Ben Tidey, Josh Sealey, Louise Ruff, Bonny Farrell, Codey Trethewey, Danielle Stebbins, Kerry Filliol, Ryan Ellis, Anna Carroll, Russ Francis, Mary Farrell,
Leesa Monaghan, Michelle Allport, Jeff Baxter, Richard Andrews, Greg Clark & Christie Fox
Ben Tidey
THE LANCASTER MEMORIAL TROPHY
Distinguished Individual Achievement In Surf Sports
Tenille Devine, Fletcher Hart, Lou Ruff and Kai Harvey
Kai Harvey
KAREN ANDREWS OUTSTANDING NEW MEMBER AWARD
Active New Member
Raymond Blane, Kristy & Steve Hart, Jason Hvass, Scott Murphy & Katie Richards
Raymond Blane
THE RAPALLO FAMILY TROPHY
Distinguished Individual Achievement In Beach Sports
Kai Agyik and Minka Te Heu Heu Tukino
Kai Agyik and Minka Te Heu Heu Tukino
Masters Athlete of the Year
Masters sporting Excellence
Lou Ruff, Tenille Devine & Ben Cox
Tenille Devine
MAURIE WEBB SHIELD
Lifesaver of the Year
Jack Carroll, Ryan Ellis, Codey Trethewey & Greg Clark
Greg Clark
Awards were also presented to our Patrollers who committed the most hours this season as well as our Patrol Captains and key patrolling members to thank them for their commitment for the season.
Most Patrol Hours – Top 3 Patrollers
Nicolas Perugino (131 hrs)
Colin Harvey (103 hrs)
Sharon Finucan (102 hrs)
Patrol Captains and Teams x 13
Ben Gill (supported by Shelley Roberts & Codey Trethewey)
Mary Farrell (supported by Erica Read & Ruth Collins)
David Holzheimer
Jane Makepeace
Greg Clark
Wayne Jennings
Colin Harvey
Simone Haugh
Mitch Gilmour (supported by Stuart Gordon)
Greg Cox
Yasmina Phadel
Nicolas Perugino and
Luke Opray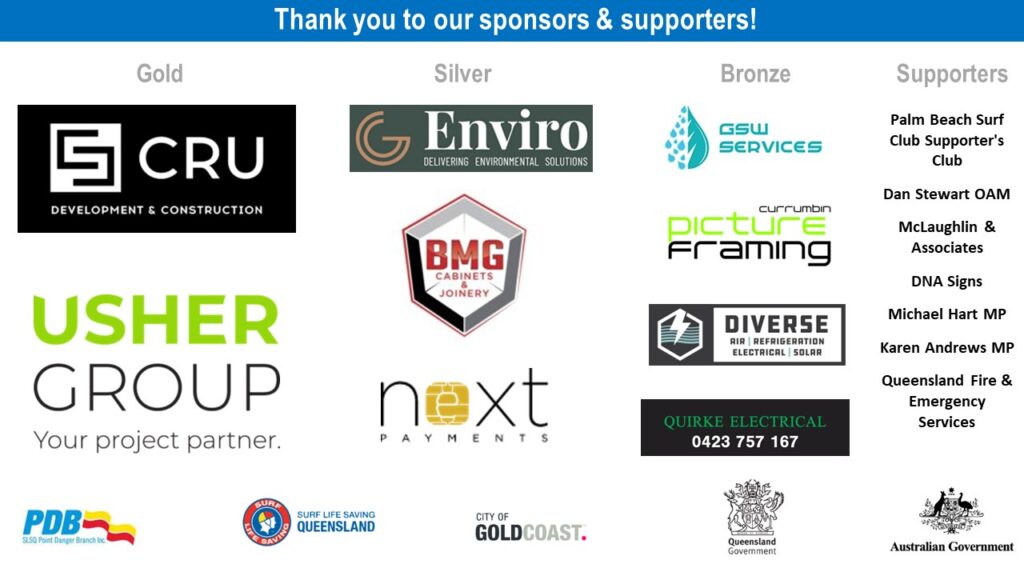 Photo Gallery
Photo booth fun!