Our Nippers sign-ups have now closed for the season.
The fun of Surf Lifesaving starts here! Nippers season runs from September through to March, with sign-on and pool evaluation days in August. 
Nippers commenced on Saturday 18 September 2021. 
Steps to Become a Nipper
All nippers need to complete the necessary applications and pay fees ahead of the all-important Pool Evaluation day. The purpose of this annual assessment is to ensure that your child is proficient and has a basic ability to swim. Due to the beach environment, Nippers is not a learn to swim program and the pool assessment is a key safety element for your child.
Follow the steps below and you're well on your way to becoming a 'Palmy' Nipper this season. If you have any queries please don't hesitate to make contact with the Club Administrator during office hours.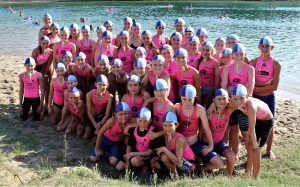 1. Complete the necessary forms below:
* Please ensure that the Club has at least one active e-mail address and contact mobile number. This is critical information we require in case we need to contact you and to provide important updates.
2. Pay your fees. For further information on membership pricing visit the Membership page. 
Please note, when submitting your online payment, if your family members have different surnames, please include this in the Payment Description box so we can attribute the payment to the correct family members. 
3. Complete your Pool Evaluation .
Our annual pool evaluation days are designed to assess the ability of your child in the water. If you can't make the pool evaluation day, you can obtain an evaluation through your own swim coach, or contact your local pool for a time that suits to have one of their coaches complete the evaluation. A copy of the signed evaluation must be presented to the club prior to the start of nippers.
*Please note that no administration will be conducted at the pool evaluation due to COVID-19 requirements. Please submit all forms to the Admin Office. All people entering the facility will be required to scan a QR code to sign in.
4. Ensure all documents are complete by the first day of nippers (18 Sep 2021)
SLS Members Area Information
RENEWING NIPPERS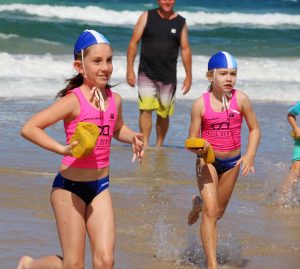 Existing nipper(s) need to renew their membership online via the SLSA Online Members Area (you can also do this on your mobile phone). There are two easy steps:
Create a 'members account'  if you haven't done so already. If you have, simply enter you email and password where required. Please check your details and update if anything has changed in the last 12 months, ensure that the Club has an active e-mail address and mobile number.
Renew and pay your Membership online – that easy! If you need further assistance please refer here for Renewal and Payment instructions.
If you get stuck please contact the Club Administrator during office hours who will be able to assist you with the process.
NEW NIPPERS
NEW MEMBERS: It is important to note when joining nippers, we are 100% dependent on volunteers. Whilst committee members and age managers do the bulk of the work, it is a prerequisite that there is a parent or guardian on the beach at all times. There may be a requirement to help out from time to time during the day. For this reason, at least one parent must be an Associate member of our Club to ensure you are covered by insurance. Without this cover, it places the club at financial risk if you sustain an injury whilst volunteering which is why we offer 'Associate' memberships.
For new members joining the Club for the first time, it does become tricky!  You're more than welcome to give it a go! New member sign up. Instructions are available should you need help on how to join. Please ensure that the Club has an active e-mail address and contact mobile number. Parents/Guardians will need to create an account to sign themselves up first, followed by their nipper.
While we encourage members to sign up using the simple online process, a printable membership form is available should you wish to print and complete. This can be bought into the club during office hours and payment can be made to the Club Administrator at this time also.
Proof of age for each child (birth certificate or passport) also needs to be sited by the Club.
BLUECARDS
Blue Cards are compulsory for all committee positions, age managers and parents actively participating in key roles during the season. Palm Beach does respectively ask that ALL parents apply for a Blue Card as part of the sign-on process, as good governance for our club to ensure everyone is covered.
To apply for a Blue Card, please use the Blue Card Online Application Portal, ensuring you have a QLD Licence or CRN number to hand. You can also use the 'How to' guide to assist with this process.
ALREADY HAVE A BLUE CARD?
If you already have a blue card with another organisation we are required to link it to SLSQ. You need to complete the Link an Blue Card Applicant or Cardholder form.
BLUECARD EXEMPTIONS
Registered teachers and police officers remain exempt from requiring a Blue Card as part of their professional duties. However, when providing services which fall outside of professional duties, you must now complete a Blue Card Exemption application online and submit it to Blue Card Services.
Child Youth Risk Management Strategies (CYRMS) training
All organisations falling within the scope of the Blue Card system are required to develop and implement a child and youth risk management strategy (CYRMS) which addresses eight minimum requirements. The SLSQ CYRM Strategy Training is required to be undertaken by every member who holds a Blue Card and be updated in line with Blue Card renewal. The training is conducted online and takes approximately 20 minutes.
To complete the e-learning, log on to the SLSA Members Area, select 'e-learning', select 'training library' and then select 'SLSQ CYRMS'. If you require help, use this completing your CYRMS training guide.
It is a requirement that this new training module is completed before start of season.
Safeguarding Children and Young people training
SLSA are serious about protecting children and youth. A new mandatory online course has been introduced which members holding a Blue Card/working with children need to complete.
To complete the e-learning, log on to the SLSA Members Area, select 'e-learning', select 'training library' and then select 'Safeguarding Children and Young People' course. If you require help, use this completing your Safeguarding Children training guide.
It is a requirement that this new training module is completed before 31 October.