The purpose of this assessment is to ensure that your child is proficient and has a basic ability to swim. Nippers IS NOT a learn to swim program and around a beach environment, this is a key safety element for your child. See column one in the Pool Skills Evaluation table for each age group.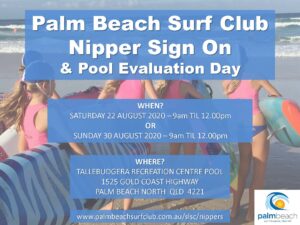 Plenty of parking is available at the Recreation Centre within the surrounding car park. However please note this area is very popular spot on weekends so please allow plenty of time in case you need to park further away and walk.
PLEASE NOTE: You need to join/renew your membership prior to arriving to this day. Please refer to 'How to become a Nipper' for more information.
You may also choose to do your pool swim assessment at your local pool. A registered level 1-swim coach can do this by filling out a Pool Evaluation Endorsement form and returning it to the Club prior to the first day at Nippers.
Your child will not be able to participate in water activities until this evaluation is complete.
Beach Evaluation
Over the first few weeks of nippers, all participants will undergo a run-swim-run Beach Evaluation (refer to column 2 for each age group). Every junior member must complete this to take part in water based activities throughout the season. There is also a Competition Evaluation (column 3) for those juniors members who wish to represent Palm Beach at competition and carnivals.