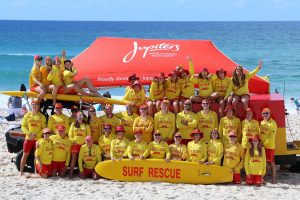 Patrol Season starts on Saturday, September 19 2020. Interested in joining? Read on…
Patrols are the reason Surf Life Saving exists!
Becoming a lifesaver is one of the most rewarding things you can do for yourself, your family and the community. Not only are you keeping the public safe on the beach, you are also building bonds and friendships that last a lifetime.
To become a Surf Lifesaver you need to be 15 years of age and undertake the Bronze Medallion course. This provides you with the necessary skills and knowledge of patrolling and surf awareness in order for you to participate in lifesaving operations.
Patrol hours are Saturdays and Sundays and Public holidays during the patrol season and are split over two shifts:

Morning Patrol: 8:00am – 12.30pm
Afternoon Patrol: 12.30pm – 5.00pm

Full uniform is provided to each member which includes:

Long sleeve shirt
Shorts
Noddy

As a patrolling member of the Club, you have year-round access to:

Training sessions
Gym facilities
Change rooms and showers
Equipment (where available)
Supporters Club access with member discounts
If you are interested and would like to know more about joining Palm Beach as a patrolling member, please e-mail our Club Administrator for more information.