12 March 2022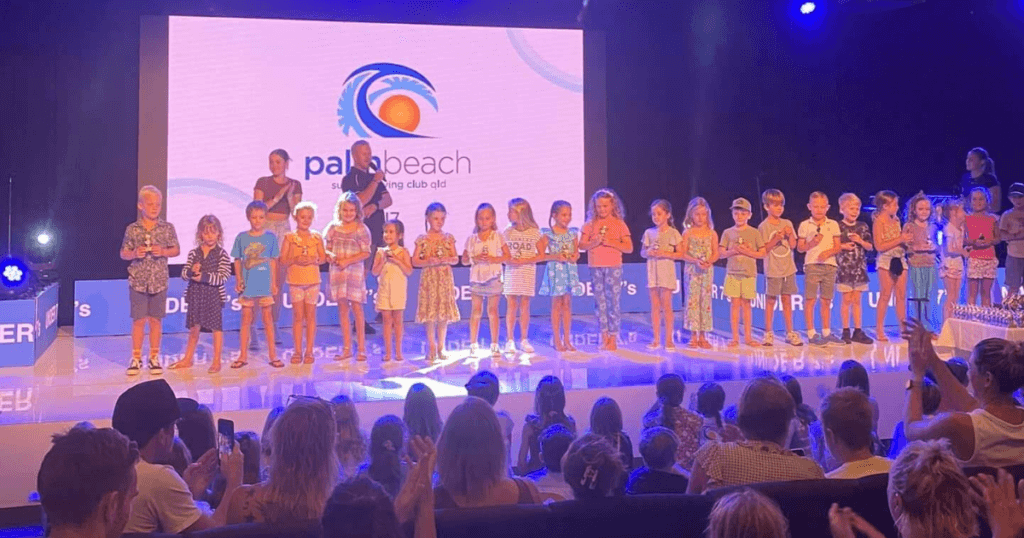 On behalf of our super JAC Josh Sealey, thank you to everyone that came to our Palm Beach Nippers presentation day.
We hope you and your Nippers enjoyed your afternoon!!
There are SO MANY people to thank for everything this season and especially for presentation day – if you helped in anyway, we want to THANK YOU for giving your efforts and your time for our club and our Nippers.
Massive thank you to all our amazing Age Managers, our Palmy coaches, set up teams, water safety crews, carnival coordinators, admin team, transport crews, BBQ teams, raffle coordinators, carnival officials, team managers, youth development group, our Palmy Board leaders, our amazing Palmy parents, and of course our amazing Palmy Nippers!!
A big thank you to all families on the day too who, after the recent floods, responded to a request to donate a school bags full of goodies to school children impacted by the floods. Over 30 bags were received. Thanks Palmy Family!
Presentations
All our Nippers are awesome. Awards were presented to the following awesome Nippers on the day:
Age Group
Overall Age Champion
Beach Champion
Water Champion
Club Values Award
U8
Jovi Hurley
Noah Colebert
–
–
Koa Webb
Abel Collins
Eden Griffiths
Lesair Norsworthy
U9
Milla Wilson
Byron Sams
–
–
Dario Veraa
Dante Veraa
Zali Tidey
Esther Geale
U10
Ellsie Rea
Mack Slattery
–
–
Marlin Jacques
Jacob Crooks
Leena Navin
Bree Aucoin
U11
Eloise Allport
Kai Wilson
Maisy Fox
Kai Wilson
Eloise Allport
Kai Wilson
Jessica Zaghini
Harvey O'Neill
Lilly Sonter
Rocco Veraa
U12
Angela Sharpe
Kai Harvey
Angela Sharpe
Ashton Sutch
Andie Farrell
Kai Harvey
Will Lynch
Micah Eddie
Jazmin Borg
Kaysha Howker
U13
Rose Cooper
AJ Hogarth
Villie Leighton-Wright
Tully Jenkins
AJ Hogarth
Rose Cooper
Villie Leighton-Wright
Bridie Cooke
Rose Cooper
Jack James
AJ Hogarth
U14
Angelina Perugino
Taj Hurley
Matisse Francis
Taj Hurley
Ruby Neeson
Dylan Jones-Dean
Dylan Jones-Dean
Taj Hurley
Lilly Bailey
Ruby Neeson
U15
Grace Pooley
Dane Fraser
Grace Pooley
Dane Fraser
Grace Pooley
Dane Fraser
Hayden Campbell
Hayden Campbell
Matthew Sealey
Grace Pooley
Frankie Jackson
COACH AWARDS
Zali Tidey
Ruby Neeson
Dylan Jones-Dean
Charlotte Sutch
Chance Spicer
Photo Gallery
Below are some photos from the day.