HAMILTON ISLAND RAFFLE
From November 10, we are commencing our Club's Major Fundraising Raffle. All monies raised from our fundraising activities assist the Club to run our nippers program, purchase equipment and participation opportunities at events. There are 20 tickets in each book which sells for $2.00 each.
Tickets will be send out to ALL sections of the Club.
We ask that you consider approaching your network of work colleagues, family and friends to help sell tickets and raise vital funds for our Club. We appreciate this might be difficult for some so all we ask is that you please return any unsold books/tix back to the Club as soon as possible so we can provide to someone else.
1st Prize:
Seven (7) nights on, Hamilton Island, 2 adults & 2 children (0-12 years) + more           Valued at $3,590
2nd Prize:
12 month gym Membership thanks to Jetts Fitness at Palm Beach       Valued at $670
3rd Prize:
His and hers Dakine travel Bags                                                                   Valued at $400
BOOK SELLERS PRIZE
As an incentive, for every member who returns a complete book of sold raffle tickets will go into the draw to win a Sony 4GB MP3 player.
ALL monies and tickets (including unsold tickets) are to be returned by December 8th. We will have a secure 'raffle return' box at Nippers each Saturday up until this time or you can return them to our office during office hours.  If you would like extra books to sell please contact Gab in our office.
Thank you for supporting our major fundraiser for the year.
Friday Night – Meat Tray Raffles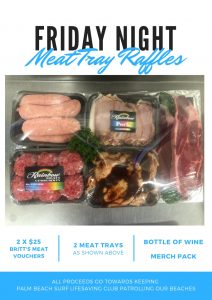 Are back bigger and better than ever! Kick start your weekend watching the sunset with friends on our deck. Don't forget to buy yourself a ticket to go into the draw to win great prizes in our Friday meat tray raffle.
Tickets are 3 for $5 and 7 for $10.
Prizes:
2 x $25 Meat Tray Vouchers from Britts Meats
2 x Meat Trays
Bottle of Wine
Merchandise pack.
All proceeds go back to our Surf Lifesaving Club to ensure our Beach is patrolled throughout the Summer.
Father's Day Raffle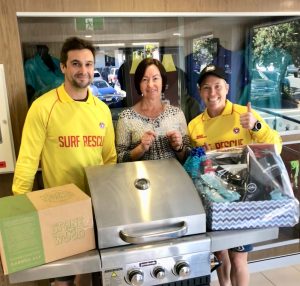 Thank you to all members who assisted selling our Father's Day raffle tickets over the past month. To all those who bought a ticket 'thank you' for your ongoing support in assisting us with our fundraising efforts for the Club.
The draw took place on Father's Day to a large crowd enjoying lunch with their Dad's. Congratulations to Lee Clarke from Banora Point who purchased a ticket on the day and was lucky to be drawn our winner! Both Lee and her husband were so excited they instantly joined as members of our Surf Club!
These raffles are not possible without amazing donations from our local community. A big shout goes to the businesses below who helped contribute to our raffle prize. If you are reading this please support the businesses (click on links above) that support Palm Beach Surf Club.
Lee took home the major prize of: